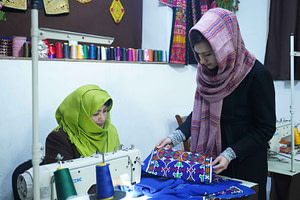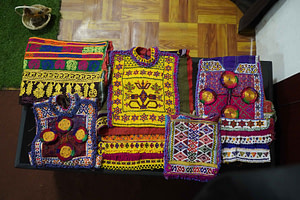 Ms. Lailoma Abavi is the Owner of Taranum Style Company. This company produces dress for women. Currently, this company has 10 employees and all of them are women. In this company they train women who don't know anything about tailoring but they want to learn and start their business. Taranum Style Company produces dresses with both traditional and foreign styles. 
This company has two branches in Kabul, One shop in Ansari Square, Parkmal, 4th floor and another shop in Kote – Sangi, Hakim Sanayi Market, 3th floor. You can know about their company more by following their page in Facebook by the name of "Taranum Style Store".
Sona Mahmody was born in Mazar-e Sharif, Afghanistan. She is a graduate of Balkh University, Law and Political Science faculty. In late 2016 joined her Master's degree at the University of Afghanistan in Kabul but couldn't continue her master's degree due to family constraints she is however committed to restart and complete the MA soon.
In terms of professional and business engagements, she started working with Passion Legal Organization during the time when she was still a university student and developed her skills in management and delivery legal training.
It was early 2015 when she started to develop an idea of export initiative with her fiancé and soon they developed the idea into practice under the unregistered name of Rumi. The idea came into practice after forging a partnership with Zarghoon Zar Trading Company which had several decades of experience in exports of medical plants. Sona then decided to officially register the business in late 2016 and successfully registered the business with the ministry of commerce and industries in February 2017.
Rumi Trading LLC jointed works in a manual cleaning house in Mazar-e Sharif with Zarghoon Zar Company and has established its head office in Kabul.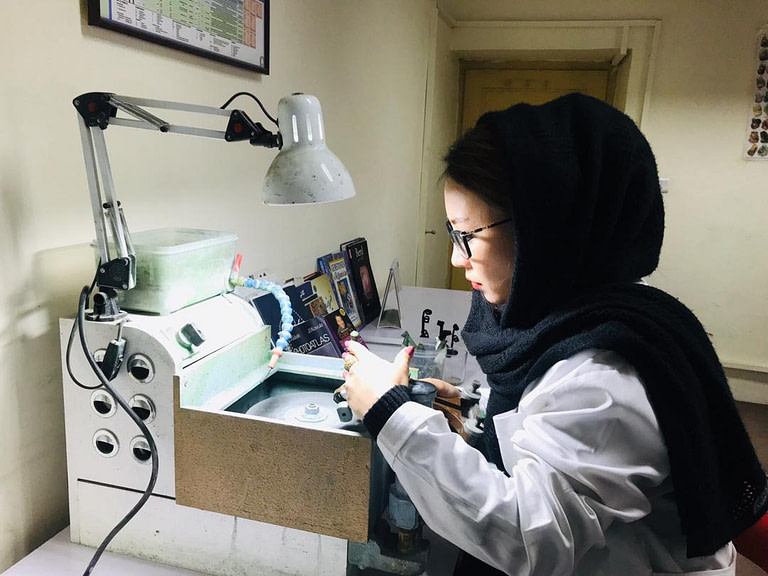 Ms. Shahla Saadat is the President of Saadat Banu Company. She was born in 1995 in Bamyan, Afghanistan. Ms. Saadat holds Bachelor degree from Journalism faculty of Herat University. She is leading her business in Jewelry and precious and semi-precious stones sector. Her company name is " Saadat Banu" and one year ago it started to provide services. This company has 5 permanent employees and 35 temporary employees. Saadat Banu produces jewelry such as, Ring, Necklace and bracelet.
Ms. Saadat about her main motivation for starting this business says that when she was working in different organizations she found out that there are very less number of female employees there. So, besides her interest on business and jewelry, she started her business for creating job for women and have an effective role in empowering Afghan women. Saadat Banu wants to become an international brand of jewelry by using "Made by Afghan Women" trademark. Besides, Saadat Banu trains women to make jewelry and cut stones. Ms. Saadat wants women to never lose hope in any stage of life and try to achieve their goals.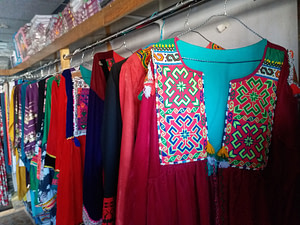 Ms. Wreshmin Sultani is the President of Kurta. She was born in 1993 at Kabul, Afghanistan. She graduated from Economics faculty of Kabul University. She established her business in 2016 with title of Kurta in Handicrafts sector. Her motivation for beginning her business was her skills in designing and interest in business. Kurta has 5 employees, 3 men and 2 women who are working in sewing and designing units.  This company produce Cloths with modern and traditional designs.
Ms. Sultani wants to expand her company and open new branches in other provinces of the country. Currently, the main problems of Kurta Company are, financial problems, working place and lack of market.
Bano Production Processing and Packing Agricultural Products Company​
Ms. Maryam Jami
founded Bano Production, Processing, and Packaging Agricultural Products Company in 2009 and has 17 years of experience in the field of agriculture, cultivation, processing, and packaging of food materials, vegetables, and fruits. She has done her bachelors in Law and Political Sciences. Ms. Jami has established an agricultural farm of 70 acres of land where she covers 31 women and 14 men. She has also established a processing center for agricultural products. Bano's products include prickles, jam, canned beans, dried fruits and vegetables, honey, 2 local varieties of rice and different kinds of vegetables and medicinal plants.  Recently in 2017, she awarded Bibi Khadija competitive Award. Bano's
Objectives are:
Job creation/provision of
job opportunities for women and men, and for the economic development of poor
families
Creation/Foundation of
the agricultural economic chain from production to consumer inside Afghanistan and
trade of quality agricultural products.
Increasing domestic
production of agricultural products for the economic development of Afghanistan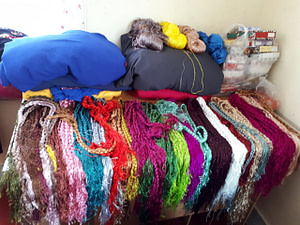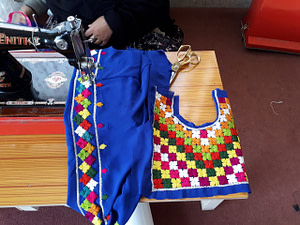 Jamila Saadat Handicraft and Carpet weaving
Ms. Jamila Saadat is the President of Jamila Saadat Handi Craft and Carpet weaving. She is from Nangarhar Province of Afghanistan. She holds associate degree from Roshan institute of higher education in Nangarhar province. Since last 10 years she is running her business and her company under the name of Jamila Sadaat Handy craft and carpet weaving is registered with the government of Afghanistan.
Ms. Saadat has 7 permanent staff and 200 women working with her company for carpet weaving and handicrafts at their homes. She has 50 carpet weaving and 100 tailoring machine for running of her business. Jamila Saadat Company implemented many projects (tailoring, Handicraft and carpet weaving) with World food program, USAID and GIZ.
The Company and its professional staff are well experienced for the smooth implantation of the vocational training and carpet weaving projects. The Company provided job opportunity for more than 200 women and also providing vocational training for the women in Nangarhar Province.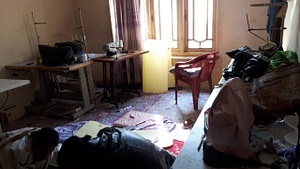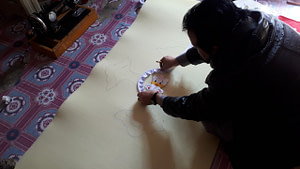 Ms.Adina Barekzai was born in 1355 in Maidan Wardak Provinces. Because of problems she immigrated to Iran, and up to 12 class she studied in Omid High School in Iran. She started her business in 1388 and now she is president of Nawid Afghan and she works handicraft sector. She has 46 employee. And her company productions are Baby seat, Hand sewing for women and children.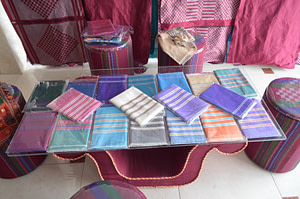 Donyaye Abrisham Tamasoki
Ms. Sadiqa Tammasoki is the President of Donyaye Abrisham Tamasoki. She was born in 1962 in Herat province. Ms. Tamasoki continued her education up to bacaloria degree. Beside the study in high school she did some work such as book selling, bookbinding, photography, producing of silk products, tailoring, embroidery, flower making, bag making and bead weaving. After that she started her business to produce silk and silk cloths with low capital and now she has 100,000 AFN capital.
. She has 35 years' work experience and she trained about 275 students for silk making, bag making and tailoring. She received about 56 appreciation and admiration letters from different organization for her activities related to producing silk cloth, bag making, men and women's dresses, home silk sets and carpets. She has plan to establish a big producing center from production to consumption for silk products, tailoring. Embroidery, shoes and bag making and also start a store for selling the products.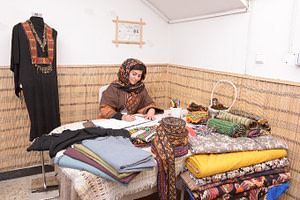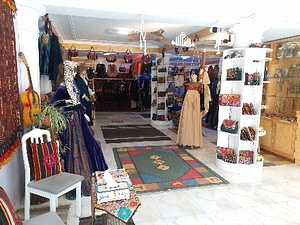 Jama Saqeb Handicraft Production Company
Ms. Mohsina Saqeb is the founder and President of Jama design handicrafts production. She is a well skilled businesswoman with Master's Degree in Business and Administration.
Jama Company produces cloths with modern, classic and traditional designs. This company produces Party dresses, Coats, Pants, Mobile Covers and skirts with Traditional and modern design. It was established on January 2017 and currently it provides services in Kabul, Bamyan, Helmand and Khost. 
The main characteristics of this company, which made this company a famous and valid brand of clothing in a short period of time are, the high quality of products, creativity, having different designs, getting order and delivering on time. For further information about this company, you can refer to their Facebook page with "Jama Designing center" title and website address www.jamasaqeb.com
Marhaba Zarin Handicraft Company
Mahbooba Zamani was born in 1368.In 1389 she graduated from Mir Wali High school and she has her bachelor degree in engineering form Balkh University. She started her business in 1394 and her products are Carpet and kilim and now she has 5 Permanent employee and 50 Contractual  employee.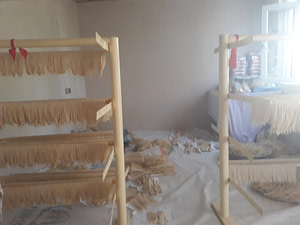 Ms. Sima Hashimi is the owner of Afrosha brand. She started her higher education in 1984 in medicines. Ms. Hashimi began her first professional career at the IOM for about nine years as Teaching Assistant. After that, she worked two years for FINCA as Credit Manager.
After establishing "Afroshta" Brand which is her brand in producing Spaghetti, Ms. Hashimi is now an influential woman entrepreneurs, she is one of the successful women in Balkh city who has supported the domestic production of the country. For example, 250 grams imported noodle is sold 30 Afghani in Balkh city, but now the production of Ms. Hashemi is selling 200 grams of "Afroshta" noodle with an excellent quality about 15 Afghani. In addition, a partridge egg that comes from neighboring countries in Balkh costs about 25 Afghanis, but Ms. Hashemi, by establishing a Partridge farm, sells these eggs by 7 Afghanis. This farm has also been effective in decreasing the price of partridges too. For example, the partridge price has been reduced from 230 Afghani to 150 Afghani in Balkh province. At the end, Ms. Hashimi, as a request from the governmental and non-governmental organizations added, "Afghan business women, especially Mazarian women, have always been working alone and they need support from the government and international organizations for their business development. These organization should respect the activities of businesswomen and they have to believe that women can work effectively."