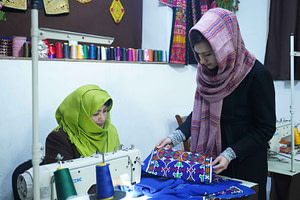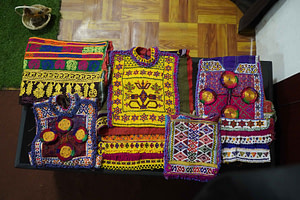 خانم لیلما ابوی رئیس شرکت ترنم استایل است. این شرکت در سکتور تولید لباس فعالیت می نماید. در حال حاضر، این شرکت دارای 10 کارمند می باشد که همه ی این کارمندان از قشر اناث اند. در کنار تولید لباس، برای زنان که در عرصه ی خیاطی دانش ابتدایی ندارند ولی می خواهند در این بخش بیاموزند و تجارت شان را آغاز نمایند، در شرکت ترنم استایل کورس های آموزش خیاطی برگزار میگردد. شرکت ترنم استایل لباس های زنانه با دیزاین های سنتی و جدید تولید می نمایند.
تولیدات این شرکت در دو موقعیت شهر کابل به فروش می رسد. یک دکان در چهارراهی انصاری، پارک مال، طبقه چهارم و کوته سنگی، مارکیت حکیم سنایی در طبقه سوم. شما می توانید با مراجعه به صفحه فیس بوک شان  با اسم "Taranum Style Store " در مورد این شرکت بیشتر بدانید.
سونا محمدی در شهر مزار شریف افغانستان به دنیا آمده فارغ پوهنتون بلخ از پوهنزی حقوق و علوم سیاسی میباشد. در سال 2016 برنامه ماستری را آغاز نمود و بعد ها به دلیل مشکلات خانوادگی نتوانست ادامه تحصیل دهد. اما برای تکمیل نمودن درجه ماستر مصمم میباشد. 
در حصه مسلکی بودن و تجارت کار خود را با Passion Legal on   آغاز نمودند اگرچه در عین حال مصروف تحصیلات خود نیز بودند. در آغاز سال 2015 انگیزه صادرات ابتکاری را تعقیب نموده و با همکاری نامزد شان این مفکوره را رشد دادند و بعد ها این مفکوره را پیاده عمل ساختند و یک تجارت غیر رسمی گیاه هایی ادویه یی را تحت نام رومی آغاز نمودند.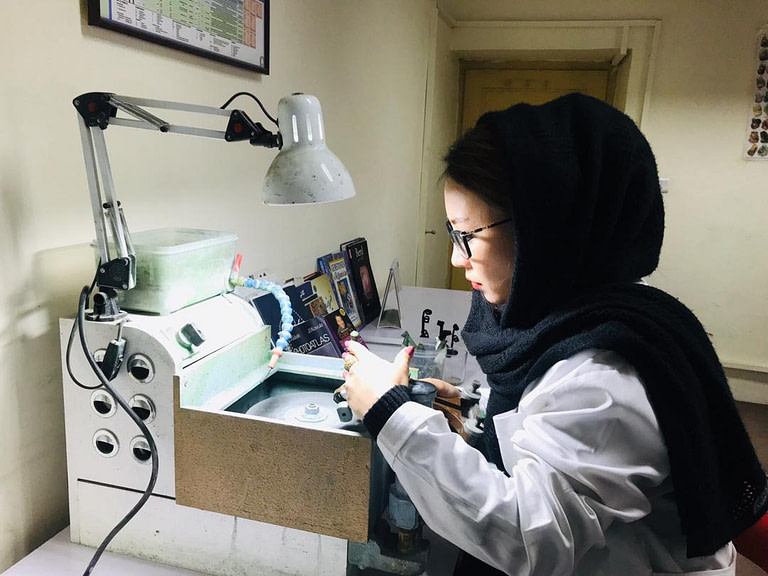 محترمه شهلا سادات ریس کمپنی سعادت بانو که در سال 1995 در ولایت بامیان آغاز به فعالیت نمودند. تحصیلات عالی خود را در رشته ژورنالیزم در پوهنتون هرات به اتمام رسانید. تجارت شان دربر گیرنده زیورات و سنگ های قیمتی و نیمه قیمتی میباشد. اسم کمپنی شان سادات بانو میباشد که تقریبا یک سال میشود که به فعالیت آغاز نموده. 
این شرکت 5 تن کارمند دایمی و 35 تن کارمند موقتی دارد که در بخش تولید زیورات از قبیل انگشتر، دست بند، و گردنبند کار مینمایید. 
محترم شهلا سادات انگیزه برای را اندازی تجارت را از جایی دریافت نمودند که در دفاتر مختلف کار نمودند و تعداد کارمندان آنها را محدود یافتند. در پهلوی مدیریت شرکت تولید زیورات اشیان کار فراهم سازی زمینه وظیفه برای زنان را نیز پیش بردند که نقش مهمی را در تقویت زنان افغان داشته. شرکت سادات بانو میخواهد یک برند بین المللی تولید زیورات باشد توسط پیوستن به علامت ساخت تجارت دست زنان افغان. این شرکت برنامه های کار آموزی ساخت زیورات و قطع نمودن سنگ ها برگزار مینمایید. 
محترم شهلا سادات از زنان دیگر میخواهد تا هیچگاه تسلیم نشده و همیشه سعی و تلاش نمایند تا به اهداف شان برسند.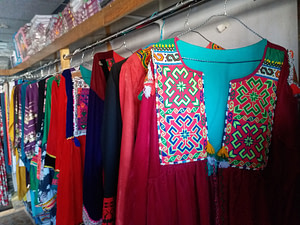 محترم ورشمین سلطانی ریس شرکت تولید لباس کرته (kurta ) در سال 1993 در کابل به دنیا آمدند. از رشته اقتصاد پوهنتون کابل فارغ تحصیل گردیده اند. ایشان تجارت خودرا در سال 2016 تحت نام Kurta   در بخش صنایع دستی آغاز نمودند. انگیزه شرکت را از توانایی های شان در بخش طراحی و علاقه شان به تجارت دریافت نمودند. شرکت kurta  5 تن کارمند دارد که 3 نفر شان از طبقه ذکور و 2 تن دیگر آن زنان میباشند. که در بخش های دوخت لباس و طراحی کار مینمایند. این کمپنی تولیدات لباسهای فرهنگی و مدرن را دارا می باشد. محترم سلطانی جهت توسعه و باز نمودن نماینده گی ها در ولایات دیگر کارمینماید. مشکلات عمده این شرکت نبود بودجه کافی، مکان مناسب، و کمبود فروشات میباشد. 
Bano Production Processing and Packing Agricultural Products Company​
Ms. Maryam Jami
founded Bano Production, Processing, and Packaging Agricultural Products Company in 2009 and has 17 years of experience in the field of agriculture, cultivation, processing, and packaging of food materials, vegetables, and fruits. She has done her bachelors in Law and Political Sciences. Ms. Jami has established an agricultural farm of 70 acres of land where she covers 31 women and 14 men. She has also established a processing center for agricultural products. Bano's products include prickles, jam, canned beans, dried fruits and vegetables, honey, 2 local varieties of rice and different kinds of vegetables and medicinal plants.  Recently in 2017, she awarded Bibi Khadija competitive Award. Bano's
Objectives are:
Job creation/provision of
job opportunities for women and men, and for the economic development of poor
families
Creation/Foundation of
the agricultural economic chain from production to consumer inside Afghanistan and
trade of quality agricultural products.
Increasing domestic
production of agricultural products for the economic development of Afghanistan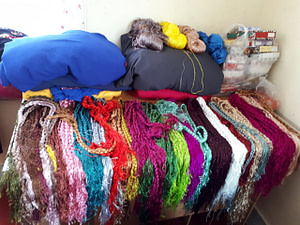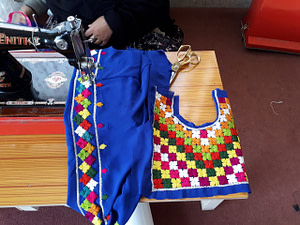 Jamila Saadat Handicraft and Carpet weaving
Ms. Jamila Saadat is the President of Jamila Saadat Handi Craft and Carpet weaving. She is from Nangarhar Province of Afghanistan. She holds associate degree from Roshan institute of higher education in Nangarhar province. Since last 10 years she is running her business and her company under the name of Jamila Sadaat Handy craft and carpet weaving is registered with the government of Afghanistan.
Ms. Saadat has 7 permanent staff and 200 women working with her company for carpet weaving and handicrafts at their homes. She has 50 carpet weaving and 100 tailoring machine for running of her business. Jamila Saadat Company implemented many projects (tailoring, Handicraft and carpet weaving) with World food program, USAID and GIZ.
The Company and its professional staff are well experienced for the smooth implantation of the vocational training and carpet weaving projects. The Company provided job opportunity for more than 200 women and also providing vocational training for the women in Nangarhar Province.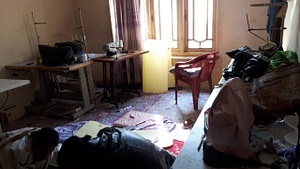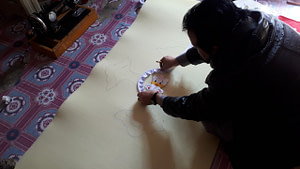 Ms.Adina Barekzai was born in 1976 in Maidan Wardak Provinces. Because of problems she immigrated to Iran, and up to 12 class she studied in Omid High School in Iran. She started her business in 1388 and now she is president of Nawid Afghan and she works handicraft sector. She has 46 employee. And her company productions are Baby seat, Hand sewing for women and children.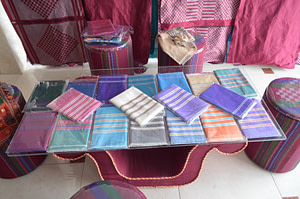 Donyaye Abrisham Tamasoki
Ms. Sadiqa Tammasoki is the President of Donyaye Abrisham Tamasoki. She was born in 1962 in Herat province. Ms. Tamasoki continued her education up to bacaloria degree. Beside the study in high school she did some work such as book selling, bookbinding, photography, producing of silk products, tailoring, embroidery, flower making, bag making and bead weaving. After that she started her business to produce silk and silk cloths with low capital and now she has 100,000 AFN capital.
. She has 35 years' work experience and she trained about 275 students for silk making, bag making and tailoring. She received about 56 appreciation and admiration letters from different organization for her activities related to producing silk cloth, bag making, men and women's dresses, home silk sets and carpets. She has plan to establish a big producing center from production to consumption for silk products, tailoring. Embroidery, shoes and bag making and also start a store for selling the products.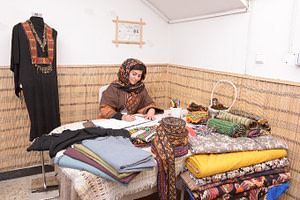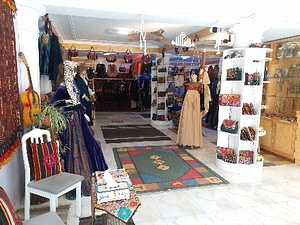 Jama Saqeb Handicraft Production Company
Ms. Mohsina Saqeb is the founder and President of Jama design handicrafts production. She is a well skilled businesswoman with Master's Degree in Business and Administration.
Jama Company produces cloths with modern, classic and traditional designs. This company produces Party dresses, Coats, Pants, Mobile Covers and skirts with Traditional and modern design. It was established on January 2017 and currently it provides services in Kabul, Bamyan, Helmand and Khost. 
The main characteristics of this company, which made this company a famous and valid brand of clothing in a short period of time are, the high quality of products, creativity, having different designs, getting order and delivering on time. For further information about this company, you can refer to their Facebook page with "Jama Designing center" title and website address www.jamasaqeb.com
Marhaba Zarin Handicraft Company
Mahbooba Zamani was born in 1989. In 2010 she graduated from Mir Wali High school and she has her bachelor degree in engineering form Balkh University. She started her business in 1394 and her products are Carpet and kilim and now she has 5 Permanent employee and 50 Contractual  employee.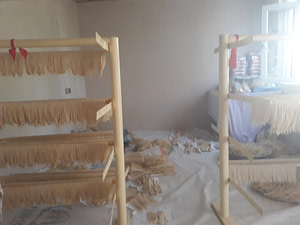 Ms. Sima Hashimi is the owner of Afrosha brand. She started her higher education in 1984 in medicines. Ms. Hashimi began her first professional career at the IOM for about nine years as Teaching Assistant. After that, she worked two years for FINCA as Credit Manager.
After establishing "Afroshta" Brand which is her brand in producing Spaghetti, Ms. Hashimi is now an influential woman entrepreneurs, she is one of the successful women in Balkh city who has supported the domestic production of the country. For example, 250 grams imported noodle is sold 30 Afghani in Balkh city, but now the production of Ms. Hashemi is selling 200 grams of "Afroshta" noodle with an excellent quality about 15 Afghani. In addition, a partridge egg that comes from neighboring countries in Balkh costs about 25 Afghanis, but Ms. Hashemi, by establishing a Partridge farm, sells these eggs by 7 Afghanis. This farm has also been effective in decreasing the price of partridges too. For example, the partridge price has been reduced from 230 Afghani to 150 Afghani in Balkh province. At the end, Ms. Hashimi, as a request from the governmental and non-governmental organizations added, "Afghan business women, especially Mazarian women, have always been working alone and they need support from the government and international organizations for their business development. These organization should respect the activities of businesswomen and they have to believe that women can work effectively."